Network of Specialists
Through Northwestern Mutual, I have access to a Network of Specialists. We help each other, share ideas and common values, and leverage each other's talents to help you achieve your personal dream of financial security.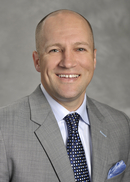 Kyle was born and raised in Royal Oak, Michigan and lived there until the age of 32 when he moved to Houston. He loved having 4 seasons in Michigan, but Houston is now home. Kyle graduated from Michigan State University with a degeree in Supply Chain Management with a concentration in Finance in 2001. He then went on to get his Executive MBA from his alma mater in 2011.
Kyle's career background is in helping grow his family's mechanical contracting company in Detroit. He transplanted to Houston to run a medical distribution company before realizing his passion lies in financial planning. He feels very blessed to have joined Northwestern Mutual and shares the company's morals and values.